Stardawg – Chemdog 4 x Tres Dawg
Stardawg – Chemdog 4 x Tres Dawg
The Creation Of Star Dawg
The story of Chem Dog begins at a Grateful Dead concert parking lot in Indiana where the famed Dog Bud was sold to Chemdog, but the story doesn't end with the discoveries found in the Dog Bud seeds. It was just the start of a genetic revolution that has produced some incredible new Chem phenotypes throughout the years. JJ-NYC from Top Dawg Seeds traded Chemdog a cut of Sour Diesel for the Chem 91 in the early 2000s. He then bred the Chem 91 to the Afghan #1 that he got from Sensi Seeds. After backcrossing the new creation twice, Tres Dawg was born. An incredibly stable combination of Chem and Afghan, Tres Dawg proved itself to be a champion for breeding new exceptional crosses. Stardawg was created when the original Chem 4 was bred to Topdawg's Tres Dawg male.
There have been a total of four Stardawg releases each from a different male plant.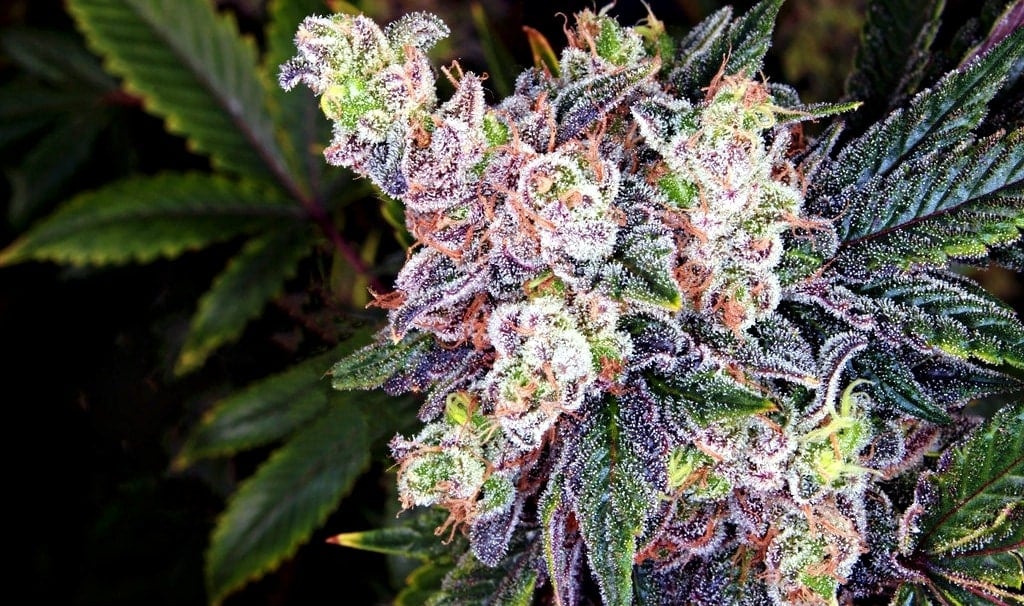 The Origin of Chem
Stardawg – In the late 1980's some friends in Crested Butte, Colorado who were growing Cannabis mainly outdoors began to come across a strain called Dog Bud. It was the most magnificent flower that this group of friends had ever seen. Rumors were that it was coming from indoor grows along the border of California and Oregon.
The group of friends decided that it would be a good idea to bring a pound of the Dog Bud with them to a Grateful Dead show in Deer Creek, Indiana. During the summers back then it was often challenging to find Cannabis for sale so having just one pound of Dogbud, the friends sold it all quickly. Supposedly people in Colorado weren't happy that the friends took the exclusive Dog Bud out of state, but that decision they made to sell it on tour changed the course of Cannabis history forever. The shows were on Thursday and Friday night on June 6th and 7th during the summer of 1991.
One of the fellow Deadheads who purchased a few ounces of the Dog Bud in that lot goes by the name of Chemdog. At the time Chemdog was only 17 years old, but his chance interaction with P-Bud, Joe Brand, and the guys from Colorado set him up to discover some of, if not the most critical phenotypes in the world today (and contributing to Stardawg). Chemdog and the guys from Colorado exchanged phone numbers, and after he returned to Massachusetts from the tour, Chemdog had the guys mail him a package with more Dog Bud inside. The Colorado crew had always checked their pounds of Dog Bud to see if they could find any seeds to germinate but they never found one. Chemdog, on the other hand, discovered the treasure P-Bud and his friends had been searching for. He found 13 seeds in the Dog Bud that was sent to him in Massachusetts. In 1991 Chemdog germinated the first few seeds. It was then that Chem 91 and Chem Sis were discovered and the dawn of a new age in Cannabis began to take flight.
Without Chem 91, we would not have many legendary strains such as Stardawg, Sour Diesel, and Tres Dawg. Chemdog eventually decided he would give one of his friends some of the remaining Dog Bud seeds to germinate. His friend discovered Chem 4 during that phenohunt. After that Chemdog decided he would germinate a few more of the remaining seeds from the original batch of 13. There he found what many claims to be their favorite of the original Chem phenotypes, the Chem D.
Stardawg Releases
The first release of Star Dawg was in 2011. The Stardawg Guava strain was a fan favorite from this release with a delightful tropical taste, large yields, and an enjoyable, uplifting effect. In 2012 just a year after its release, Stardawg Guava was awarded 1st place for Best Sativa at the Denver Cannabis Cup. The first release also produced the Corey Haim and Illuminati cuts that are known for their sour nose with heightened potency and more sedative effects. The third release of Stardawg was the purple release where Green Dot Labs in Boulder, Colorado found the Kate Upton phenotype. This is known to be the purple-leaning release that breeders like Greenpoint Seeds and other seed companies have used the male from. All of the versions of Stardawg have produced offspring with traits that exemplify everything seasoned Cannabis consumers look for in their favorite varieties. The resinous flowers that glisten with oily trichome heads stack and swell giant stinky colas that command the attention of everyone in the room. Stardawg is a great variety to have in the garden. It is easy to propagate, but as the plants begin to flower, they will likely need some support with either staking or a trellis net. As Stardawg slowly moves closer to harvest, you will notice the uplifting hints of earthy sour tones in the air. The plant will begin to stack perfect photo-worthy colas that will let you know just how special Stardawg is. After you harvest and cure your plants, you are in for an extraordinary treat with the finished product. Stardawg is a sativa dominant hybrid but don't let that fool you when it comes to her effects. She is very uplifting, but at the same time, many phenos like the Corey Haim can deliver exceptional potency that will leave even the most critical of consumers overcome with delight.
At Greenpoint Seeds, we offer an extensive collection of premium Stardawg hybrids. Check out our Stardawg hybrids today!