Whether you're brave enough to grow cannabis in winter or live in an area that's always chilly, you're in for a challenge. Growing cannabis in the cold is no easy feat, requiring more than just knowledge and experience. To succeed, you're going to need the right strain—one that can withstand the frigid weather without sacrificing potency and yield. To help you get started with the right genetics, we've compiled a list of the best cannabis strains for cold climates.
Can You Grow Cannabis in the Cold?
Marijuana is a hardy and versatile genus of plants that has successfully adapted to a wide variety of climates; however, every cannabis strain has its limits, especially in the seedling stage. During this early period of growth, the plants need to be kept warm, with temperatures between 75 and 80 degrees Fahrenheit. So, it's best to keep the seedlings inside and under a grow light until they reach the vegetative growth stage.
Flowering plants also can run into problems in the cold. Rain and snow can create the perfect environment for fungal infections such as botrytis. So, if you're going to keep the plants outside, you'll need to keep an eye on them and protect them from inclement weather.
What Type of Cannabis Is Best for Cold Climates?
Cold climates tend to have short growing cycles and plenty of snow and rain. Therefore, your best bet is to choose a strain that is mold resistant and can complete the flowering period quickly.
For growers who prefer photoperiod strains, we recommend choosing an Indica-dominant cultivar. Indicas have adapted to the mountainous regions of Asia and the Middle East. As a result, they can handle much cooler temperatures than Sativas. They also complete the flowering cycle much faster than tropical cultivars, usually reaching maturity in just eight to nine weeks.
Autoflowering cannabis strains also are an excellent option for growers in cold climates. These cultivars descend from the Ruderalis variety of cannabis—a subspecies that has adapted to the harsh conditions of Eastern Europe. Autoflowering strains can be harvested in just two to three months, so they are ideal for areas with short growing seasons.
The team at Greenpoint Seeds is currently developing a line of autoflowering seeds that will be released this spring, so subscribe to our newsletter to be notified when they are available.
The Best Cannabis Strains for Cold Climates
Bubbles
Bubbles, bred by Greenpoint Seeds, is a hardy Indica-dominant hybrid of Indiana Bubblegum and Animal Cookies. This strain is easy to grow and shows excellent resistance to mold and other diseases. As a mostly-Indica variety, Bubbles flowers quickly, reaching maturity in just nine weeks. And when exposed to cold temperatures, this strain often displays vibrant hues of purple.
Bubbles might be a beginner-friendly strain, but it produces connoisseur-grade buds. The flowers are exceptionally dense and frosty, emitting sweet notes of cherry candy and cookie dough. And thanks to the hard-hitting potency of its Animal Cookies parent, this strain delivers incredibly relaxing and numbing effects.
Bubba Kush
Bubba Kush is a classic cannabis strain that has been a favorite among Kush fans for decades. A mostly Indica-variety, Bubba Kush flowers in eight to nine weeks, making it a great choice for areas with short growing seasons.
Bubba Kush isn't a high-yielding strain but makes up for it with supreme flavor and potency. This strain emits a rich, earthy fragrance with distinct notes of coffee, chocolate, hash, and soil. The rock-hard, resin-encrusted buds deliver a deeply soothing stone that eases muscle tension and boosts the mood.
Here at Greenpoint Seeds, we offer a variety of strains that are crossed with Bubba Kush. You can find them right here.
Purple Crash
Purple Crash is another Indica-dominant cultivar that boasts an impressive lineage. This cross of Sundae Driver and Purple Punch is hardy and mold-resistant, withstanding cool temperatures and suboptimal conditions. And with a flowering time of just eight to nine weeks, this strain will be ready for harvest outdoors before the temperature drops too low.
If you have a sweet tooth, Purple Crash is the strain for you. This cultivar produces big, frosty buds that emanate sweet notes of grape candy, tropical fruit, and vanilla. Its delicious flavor is complemented by a powerful stone that relaxes the body and stimulates the senses.
Crème de la Chem
For Chemdog fans, Crème de la Chem is a fantastic autoflowering strain that performs well in cold environments. This hybrid of Stardawg and Chemdogging, bred by Mephisto Genetics, is easy to grow and reaches maturity in just 65 days.
Crème de la Chem yields fluffy, golf-ball-shaped buds that emit a sharp aroma. The flowers reek of incense, wood, skunk, and gasoline, with hints of citrus and spice. The strain packs a punch, delivering a powerful cerebral high that eases stress and calms the mind.
Jelly Pie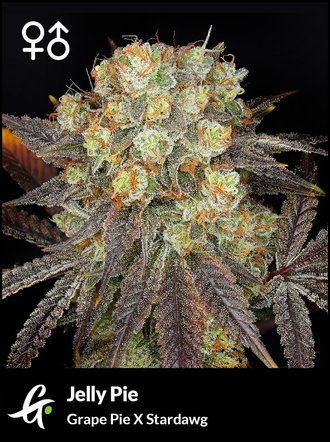 Another fantastic Chemdog descendant, Jelly Pie is a hybrid of Grape Pie and Stardawg. The plants grow vigorously, producing large yields of top-shelf flowers in just nine weeks. Like its parents, this strain is very forgiving and can handle fluctuations in temperature and humidity.
Jelly Pie yields a variety of unique phenotypes, with flavors that range from sweet and fruity to acrid and funky. Users report notes of grape candy, fresh-baked pastry, pine, citrus, and skunk.
As a balanced hybrid, Jelly Pie offers a euphoric cerebral high paired with a comforting body stone. This strain is perfect for an afternoon smoke, relaxing the body without making the user feel sluggish.
Final Thoughts on the Best Cannabis Strains for Cold Climates
There you have it: our list of the best cannabis strains for cold climates. By selecting any of the cultivars listed above, you'll be able to grow high-quality marijuana in areas with cool temperatures and short growing seasons.
It's important to remember that any cannabis strain will struggle if the temperature drops too low. If you're planning on growing cannabis in winter, check out our in-depth guide here.
What are your favorite cold-weather cannabis strains? Please share your thoughts in the comment section below. While you're here, don't forget to check out our entire collection of regular and feminized seeds.