Growing your own marijuana at home is both fun and rewarding, and the payoff is well worth the wait. But cultivating cannabis indoors (which allows for year-round harvests) is a bit more involved than simply throwing a few seeds into the ground and waiting until harvest time.
If you want to grow the best marijuana indoors, carefully consider which strains will do best in your indoor grow environment first. Lucky for you, your favorite marijuana seed bank is here to help!
Space Requirements for Growing Cannabis
Different strains require different amounts of space to be fruitful. Sativas, for example, (which hale from warmer regions near the equator) need ample room as they often grow as high as eight feet or taller under the right conditions.
On the other hand, Indica strains have adapted to shorter growing periods by maturing quicker at a smaller size. Indica buds tend to be denser than Sativas and often produce higher yields in confined spaces.
Taking size into consideration, those with limited grow space should opt for Indica strains. That's because plants within this subspecies won't outgrow smaller spaces and usually complete the growth cycle more quickly. This not only allows for a more bountiful harvest because the plant will not be crowded, but allows more frequent harvests, as well.
Analyzing Your Environment
Any strain can technically be grown indoors; however, Indica and Ruderalis cultivars tend to fare better inside than Sativas. This is especially true for novice growers, those with limited time on their hands, or growers in cold regions. That's because these strains tend to be more hardy and able to withstand environmental factors such as drops in temperature or stress due to pests and contaminants.
On the flip side, Sativa strains are more resilient to high temperatures. Therefore, they are ideal for spaces that experience extreme heat. High temperatures are especially likely when using high-intensity discharge (HID) lights. These lights (both high-pressure sodium and metal halide) produce lots of heat and, as a result, require additional components such as ballasts and cooling systems. However, their light penetration is usually much better than other lighting systems, often producing denser buds.
Sativas also tend to perform better in humid conditions than Indicas do. This is due primarily to the open bud structure of the plants. The flowers tend to be light and fluffy, allowing excess moisture to dissipate quickly, thus preventing botrytis and other fungal diseases from infecting the plants.
Conversely, Indicas have adapted to endure the dry, desert-like conditions of the Middle East. So, if you live in an arid environment and don't feel like investing in a humidifier, an Indica variety is your best bet.
Indeed, environmental conditions can profoundly impact a plant's flower production. As such, optimizing your grow space to meet the needs of your strain will significantly enhance the quality of the buds. Usually, however, it's easier to choose a cultivar that is already well-suited to your environment.
Finding Strains to Fit Your Preferences
Perhaps the most crucial aspect to consider when growing cannabis indoors is the intended medicinal qualities of the strain. Obviously, if you don't like sleep-inducing body highs, Indicas may not be the best option for you despite their ease of growth. If you prefer Sativas with their upbeat, cerebral effects, you can still grow them successfully with proper care and plant training techniques.
The Best Strains for Indoor Grows
For those looking to grow marijuana easily indoors, we suggest the following strains:
This cross of Indiana Bubblegum and Stardawg is excellent for indoor grows because of its fast growth cycle and plentiful harvest. It's both unique and easy to grow and is a pleasure to consume, given it's sweet, candy-and-skunk flavor and mellow high.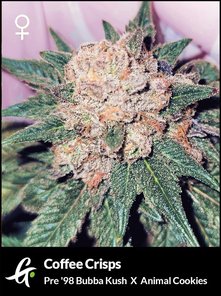 This hybrid of Pre '98 Bubba Kush and Animal Cookies is a favorite among our team. Its breathtaking bag appeal and rich flavor of freshly brewed coffee and cookie dough are sure to please. The compact, medium-sized plants are easy to train, making them ideal for indoor grow rooms with limited space.
This has been one of our most popular strains for a long time, and for good reason. Its vigorous growth and fast flowering time make it a fantastic choice for indoor growers of all skill levels. And when grown in cold climates, this strain often displays enchanting hues of purple and red. If you like the bold, fruity flavors of red wine and citrus, this hybrid of Sunset Sherbet and Purple Punch won't disappoint.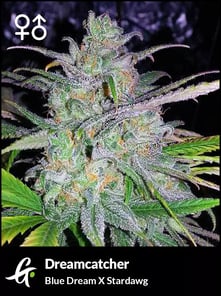 This is the child of Blue Dream, one of the most popular commercial cannabis strains of all time. Like its parent, Dreamcatcher thrives in a variety of environments, producing huge yields of berry-candy flavored buds. Its Stardawg father adds some extra potency and raunchy, skunky aroma to enhance this powerhouse of a strain.
Final Thoughts on Strain Selection for Home Grows
There you have it: our top tips on strain selection for home grows. By choosing a cultivar that is the right size for your garden, is adapted to your climate, and is resistant to pests and diseases, you'll be well on your way to having a successful indoor harvest.
It's important to remember that, while some varieties of cannabis are better suited to indoor grows than others, a determined and experienced gardener can successfully cultivate just about any strain out there. Choose a cultivar that catches your eye, and develop the skills necessary to make it thrive in your indoor grow room.
Please contact us if you have any questions about the best strains for home grows. We're always happy to help!
Do you have a favorite indoor strain? We'd love to hear about it in the comment section below.