Growing marijuana outdoors is a fun and rewarding experience that every gardener should experience at some point in their lives. But without the right strain for your environment, growing outdoors can be difficult, if not impossible. To set you up for success, we've compiled a list of the best outdoor cannabis strains. Whether you live in a warm, cool, humid, or arid climate, we have some great suggestions.
How To Choose the Right Outdoor Strain
There are several important factors to consider when selecting a cultivar to grow outdoors. While aroma, flavor, and potency are desirable traits, they shouldn't be your only concerns. A great outdoor strain should also have these characteristics:
Quick flowering time to avoid frost and rain in the fall
Resistance to pests and fungal infections
Robust stems to handle high winds
Ability to handle fluctuations in temperature and humidity
The climate also will determine which strain is right for you. Sativa strains are generally suited to warm, humid environments, as their open bud structure helps prevent bud rot and other fungal infections. In contrast, due to their fast flowering time, Indica and autoflower varieties tend to perform well in cool and dry climates.
Best Strains To Grow Outdoors
Western Grail
Western Grail, bred by Greenpoint Seeds, is a mighty cross of two classic cultivars: Larry OG and Stardawg. Thanks to its Chemdog heritage, this strain is exceptionally hardy and vigorous, producing enormous yields of high-quality flowers.
Like its parent, Larry OG, Western Grail is best suited to a temperate climate with moderate humidity levels; however, it can thrive in cooler regions thanks to its relatively short flowering time of nine weeks. And given its excellent resistance to pests and diseases, this cultivar will do well in most environments.
If you like funky, old-school flavors, Western Grail won't disappoint. This strain emits a spicy, earthy aroma, with notes of sour lemon, pine, and gasoline. Its rich flavor is paired with a potent but well-balanced high that soothes the body and mind.
Bubblegum
There's no denying that Bubblegum is one of the most well-known strains in the world—and for good reason. Not only is this cultivar potent and delicious, but it's also very hardy and easy to grow indoors and outdoors.
Thanks to its Indica genetics, this strain flowers in just eight weeks, making it an excellent choice for growers in cool climates with short growing seasons. But due to the density and frost of the flowers, Bubblegum may be susceptible to botrytis when grown in humid areas.
As its name suggests, Bubblegum is a real treat when cultivated to its full potential. The terpene profile is sweet and earthy, with notes of pink bubble gum and tropical fruit, and floral undertones. What's more, this strain produces an average of 17 percent THC, delivering a wonderfully relaxing stone that is strong but not overwhelming.
Lemon Tree Punch
Lemon Tree Punch is an easy-to-grow strain that doesn't skimp on aroma or potency. This hybrid of Lemon Tree and Purple Punch offers above-average yields of beautiful, purple-tinged buds that are bursting with flavor.
Its Sativa heritage gives Lemon Tree Punch a fluffy, open bud structure. As a result, the strain is ideal for warm climates with moderate to high humidity levels. It shows excellent resistance to bud rot and other fungal infections and is resistant to most pests and diseases.
The Lemon Tree Punch strain combines the sour-citrus funk of Lemon Tree with the fruity scent of Purple Punch. The flavors range from tangy lemon to grape soda and berry. The cultivar also produces a powerful cerebral high that's followed by a comforting, full-body effect. It's the perfect strain to enjoy at any time of day.
Master Kush
The Master Kush strain is another old-school elite that is adored by growers and users around the world. Its dense, sticky buds are as beautiful as they are potent, decorated in a thick sheen of trichomes and speckled with bright-orange pistils.
Master Kush is said to be a descendant of a landrace Hindu Kush variety. As such, it has adapted to thrive in harsh, arid climates. The strain is quite versatile and can handle both cool and hot weather as long as humidity levels remain relatively low.
What Master Kush lacks in yield, it makes up for in quality. This cultivar produces rock-hard, frosty buds with a luscious bouquet of ripe dates, hashish, and fine wood. As a nearly pure Indica, the strain provides a profoundly relaxing stone that may help those suffering from pain and insomnia.
Blue Dream Auto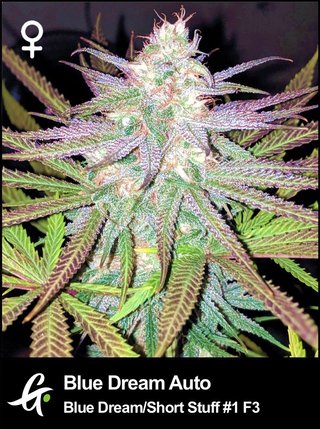 Blue Dream Auto brings together the enormous yields and delicious flavor of Blue Dream with the convenience and efficiency of autoflower genetics. These feminized autoflowering seeds are great for indoor and outdoor growers alike.
Due to its Ruderalis ancestry, Blue Dream Auto is perfect for cool climates with very short growing seasons. It is ready for harvest in just nine weeks from seed, so it can be planted very late in the seasons and still be ready before winter. Considering its vigorous growth and excellent resilience, this strain can adapt to just about any climate or grow style.
Blue Dream Auto takes after its parent, producing big, fluffy buds that smell of blueberry, wildflower, and exotic herbs. As a hybrid strain, it provides a balanced high that enlivens the mind, boosts the mood, and relaxes the body. If you're looking for a great all-rounder in terms of aroma, flavor, and effect, this strain is a fantastic choice.
The Best Outdoor Cannabis Strains: Final Thoughts
Well, there you have it: our top five best outdoor cannabis strains. In addition to being hardy and easy to grow in various climates, all the cultivars on this list are sure to provide delicious flavors and powerful effects.
At Greenpoint Seeds, we have a wide range of regular, feminized, and autoflower seeds that are great for indoor and outdoor growers alike. Shop our complete collection of marijuana seeds, and don't hesitate to contact us for more information about the best outdoor cannabis strains.
Now that you know which strains to grow, check out our complete guide on how to grow cannabis outdoors.
What are your favorite strains to grow outdoors? Please share your thoughts in the comment section below.