No matter how much experience you have growing cannabis, starting with the rights seeds is essential. Poor-quality seeds may not grow vigorously or may not germinate at all. And if you're a first-time grower, you might not know where to find cannabis seeds that are hardy and easy to grow. Fortunately, we've compiled a list of the best feminized cannabis seeds for beginner growers so that you can have a fun and enjoyable time learning to cultivate your own cannabis.
What Are Feminized Cannabis Seeds?
In the cannabis world, female plants get all the love. That's because only female plants can produce flowers that are high in cannabinoids. In contrast, male plants form pollen sacs with little to no cannabinoids. And if the male plants pollinate the females, it will reduce the potency and yield of the cannabis. As a result, most growers remove the males from the garden before they have a chance to pollinate the female plants.
Feminized seeds are great for beginners because they streamline the growing process. These seeds produce 100 percent female plants, allowing growers to avoid the process of sexing the plants and removing the males.
On the other hand, regular seeds are typically more suitable for experienced growers, as these produce approximately 50 percent male plants and 50 percent females. Regular seeds are great for growers who would like to breed their own strains; however, they tend to complicate the cultivation process.
What Are the Best Feminized Cannabis Seeds for Beginners?
Purple Chem 4
Purple Chem 4 is perfect for beginner growers looking for a fruity and funky strain that doesn't compromise on potency. This hybrid of Chem 4 and Purple Punch is easy to grow, produces a good yield, and has a relatively short flowering time of only nine to ten weeks (compared to other strains that can take up to 12 weeks).
Purple Chem 4 produces dense, frosty, violet-colored buds that are truly a sight to behold. And its compact structure makes this strain great for indoor grows.
This cultivar emits a delightful bouquet of grape soda and berry candy mixed with funky notes of diesel and skunk—and its effects are just as pleasant. As an Indica-dominant cultivar, Purple Chem 4 delivers a powerful stone that relaxes the muscles and eases stress. Given its vigorous growth, fast flowering time, and delicious flavor, this is an excellent strain for growers of all skill levels.
Northern Lights
The Northern Lights strain is another hardy and resilient cultivar that's ideal for new growers. This strain is resistant to many pests and diseases and can withstand moderate stressors. Northern Lights can produce a massive yield in just seven to eight weeks when provided with an optimal environment.
Northern Lights offers a calming effect on the mind and body. Its soothing stone is great for easing pain and unwinding after a long day. What's more, this strain's aroma of pine and soil is sure to keep you coming back for more.
Purple Dream
Greenpoint's Purple Dream feminized seeds are easy to grow and thrive in various environments, both indoors and outdoors. Like its mother, Blue Dream, the Purple Dream strain is capable of producing humongous yields of high-quality buds.
This hybrid strain delivers a balanced high that is both calming and elevating. Its blissful effects are complemented by the strain's delightfully fruity terpene profile. You'll be greeted by a bouquet of ripe berry, grape, and exotic spices when breaking apart the flowers.
Blue Cheese
The Blue Cheese strain is a classic cultivar that has been around for many years. This hybrid of Blueberry and Cheese is a beginner-friendly strain that doesn't skimp on quality. It produces a hefty yield of flowers that are exceptionally potent and flavorful.
Both Cheese and Blueberry are cherished for their mouthwatering aromas and flavors. Blue Cheese brings together the sweet and savory flavors of these strains to create a wonderfully complex terpene profile. The flowers fill the room with notes of blueberry yogurt mixed with faint undertones of skunk. Given its ease of growth, potent stone, and rich flavor, we had to include Blue Cheese in our list of the best feminized seeds for beginner growers.
Dawg Biscuits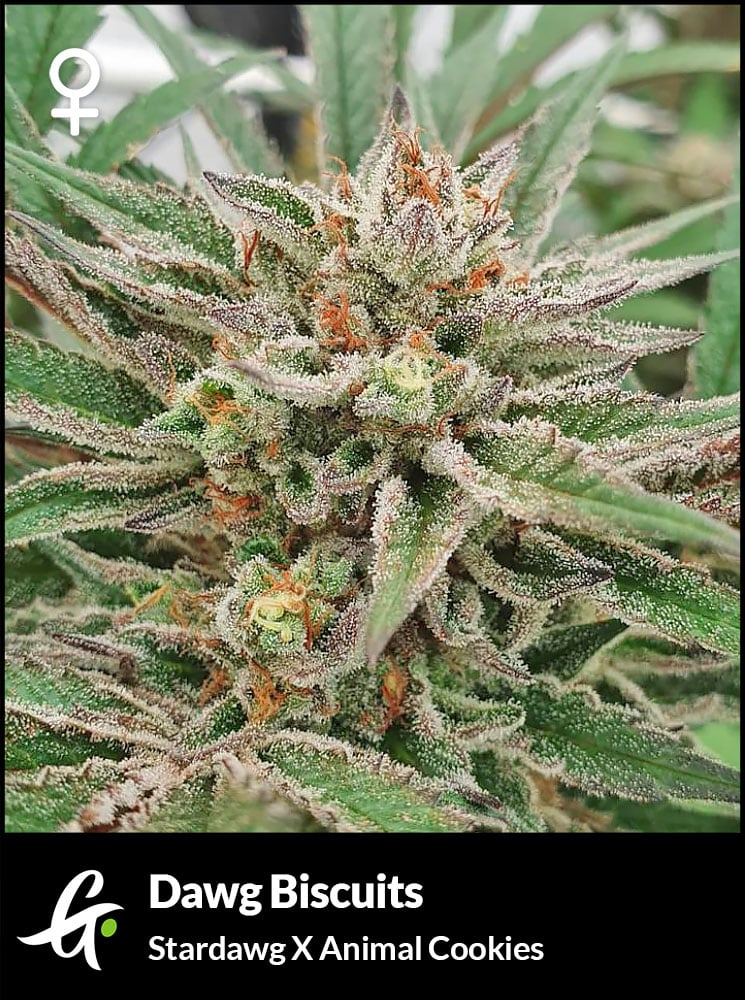 Dawg Biscuits feminized seeds are great for growers who want a premium-quality strain that's easy to grow. Dawg Biscuits is a hybrid of Stardawg and Animal Cookies that reliably produces grade-A cannabis.
Animal Cookies is a difficult plant to grow; however, Dawg Biscuits' other parent—Stardawg—is a robust and resilient cultivar. Dawg Biscuits combines the astounding potency and bag appeal of Animal Cookies with the vigor and yield of Stardawg, creating a well-rounded hybrid that anyone can cultivate.
Dawg Biscuits produces medium- to large-size buds that are wonderfully dense and frosty. Its complex terpene profile offers something for everyone, with aromas ranging from sweet cookie dough to skunk and gasoline.
The Best Feminized Seeds for Beginner Growers: Conclusion
Starting with a beginner-friendly strain is vital if you're a first-time grower. Many elite cultivars produce top-quality buds but are difficult to grow. Strains such as the famed Girl Scout Cookies are very sensitive to changes in temperature and pH and are more prone to disease than other varieties are.
Luckily, there are many strains available that are easy to grow and produce frosty and flavorful buds. If you're looking for beginner-friendly feminized seeds that don't skimp on quality, any of the strains listed in this article should serve you well.
Please contact us for more information about our products and services. While you're here, shop our complete collection of regular and feminized cannabis seeds.
What are your favorite easy-to-grow strains? Please share your thoughts in the comment section below.
Buy Cannabis Seeds Online
Now that you know about the best feminized seeds for beginner growers, check out these premium strains from Greenpoint Seeds: