The Best Cannabis Seeds for Medical Marijuana Users
With so many strains on the market nowadays, finding the best cannabis seeds for medical marijuana users is challenging. Countless Indica, Sativa, and hybrid strains are available, with a wide assortment of flavors and effects. To make it easy for you to find the perfect strain, we've compiled a list of the best cannabis seeds for medical marijuana users.
Our top picks for the best cannabis seeds for medical marijuana users are:

1. Purple Cake
2. OG Shark
3. Cookie Crunch
4. Lemon Sour Diesel
5. Fritter Cookies
Purple Cake
Purple Cake is a hardy Indica cross between fan favorites Purple Punch and Wedding Cake. The colorful exotic hybrid combines the best qualities of the two parent strains to create beautiful, delicious, and dense flowers with a fruity aroma. The high is a blissful mix of cerebral and physical effects, perfect for relaxing the mind and body.
Medical marijuana users can enjoy the intense but not overpowering high, coupled with the sweet flavor, making it a perfect choice for relief from:
• Anxiousness
• Muscle discomfort
• Sleeplessness
Choose these cannabis seeds for an enjoyable and relaxing experience. 
OG Shark
OG Shark is an incredibly potent cannabis strain known for its extreme relaxation benefits. If you're in the market for a marijuana strain that's sure to hit muscle and joint discomfort hard, look no further than OG Shark. Experts believe this rare 50/50 hybrid cannabis seed is a cross between the insanely popular Blueberry and Original Diesel marijuana strains. It produces a sweet blueberry scent and taste, with bitter diesel undertones.
Medical marijuana users report near-instantaneous relief from chronic muscle aches and pains with a few puffs of OG Shark. You can attribute these characteristics to the high cannabinoid levels in this potent cannabis strain.
Cookie Crunch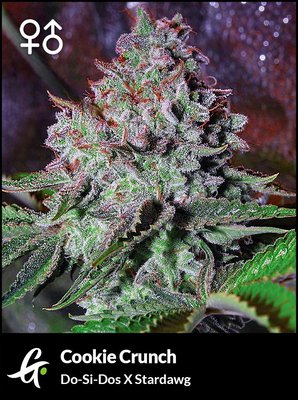 An exotic cross between Do-Si-Dos and Stardawg, Cookie Crunch, is a cannabis strain for those with a discerning palate and a high tolerance to cannabinoids. Aroma and flavor-wise, it's a delightful cultivar, with notes of musky chemicals and sugary undertones. The high comes on slowly but delivers a powerful punch that may help with:
• Muscle and joint discomfort
• Appetite
• Stress
These powerful effects of Cookie Crunch make it one of the best cannabis seeds for medical marijuana users. The marijuana strain has an excellent lineage that contributes to its therapeutic effects.
Lemon Sour Diesel
A cannabis strain that has taken the medical marijuana world by storm is Lemon Sour Diesel. This pungent cannabis strain is a cross between California Sour and Lost Coast OG and provides an earthy, diesel taste with hints of lemon. The cultivar is potent but won't put you over the top. It balances its cannabinoid levels to offer a happy and functional head and body effect.
The balance Lemon Sour Diesel provides is perfect for helping medical marijuana users:
• Ease anxiousness
• Reduce stress
• Improve mood
With these effects, it's no wonder this cannabis seed is one of the best for medical marijuana patients.
Coffee Crisps
Coffee Crisps is a power cross between two of the most popular medical marijuana strains on the market—Pre '98 Bubba Kush and Animal Cookies. Like its parents, this strain delivers an incredibly powerful body stone that tends to relax the muscles and ease pain throughout the body. Its mellow cerebral effects may also help to alleviate stress. As an Indica-dominant hybrid, this strain offers deeply soothing effects that may lull users to sleep. 
Coffee Crisps' potent effects may help medical marijuana users:
• Ease tension in the body
• Reduce stress
• Relieve pain
In addition to its potent effects, Coffee Crisps offers a rich terpene profile, with notes of chocolate, coffee, cookie dough, and soil. It's no wonder why it earns a spot on our list of the best cannabis strains for medical marijuana users. 
Final Thoughts on the Best Cannabis Seeds for Medical Marijuana Users
Finding the perfect cannabis seeds for your unique needs is overwhelming at times. Fortunately, all of the cannabis strains listed above are sure to satisfy those looking for the best medical marijuana seeds on the market. 
What do you think are the best cannabis seeds for medical marijuana users? Let us know in the comment section below. While you're here, browse our entire collection of regular and feminized cannabis seeds. 
Buy Cannabis Seeds Today
At Greenpoint Seeds, we offer a wide variety of cannabis seeds that are ideal for medical marijuana users. Check out some of our featured seeds: